Several weeks ago I had the opportunity to particpate in a blog hop sponsored by the people at
Sugar Nellie.
They are a British Company that manufactures rubber stamps. My friend Diane, from
Duda Daze
is an artist for them. I was lucky enough to have been sent one of her stamps from Sugar Nellie and the challenge was to come up with a greeting card using the stamp that was sent.
I was so pleased to have received a stamp of one of my favourite pieces of Diane's. Diane is the Goddess of Froggies and little girls, I was so thrilled to get this one in particular!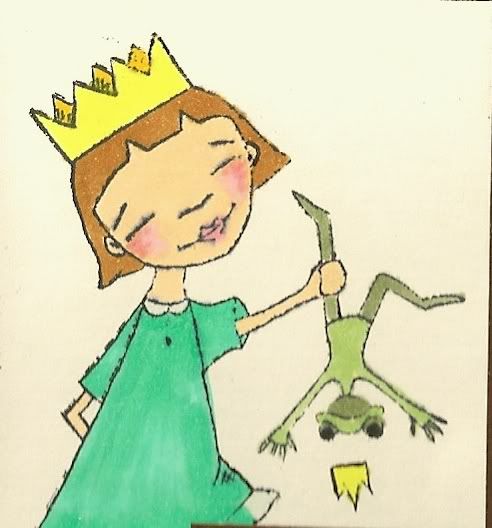 This was a real challenge for me. I am used to making cards using my own artwork, but to use someone else's, well that just did not come easy.
I took out my scrap papers and inks and markers and went to work the other afternoon, and this is what I came up with.
I found this sticker that I had had for some time and it just seemed to fit in with the theme of this stamp. What do you think?
I then went for some matching background colours, matching marker colours to colour in the image and I also found some cute ratafia ribbons in colours that matched, and this is the final produce of my creativity!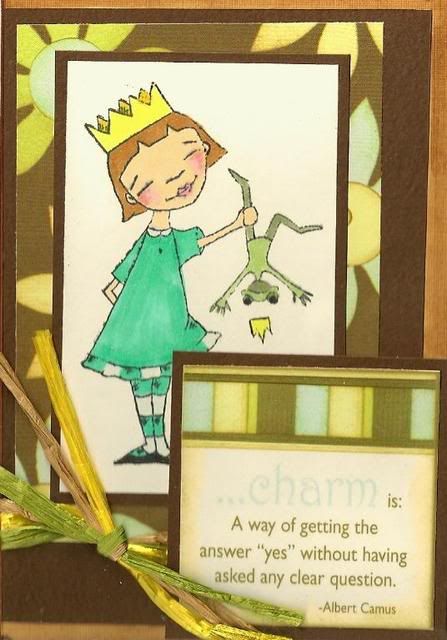 I do have to say that I enjoy painting my own pictures more, but this was kind of fun for a change.
Hop on over to
Joey's page
and let her know I sent you. She is the next one in line and I know she'd appreciate you hopping on over to her page.
Now, back to the drawing board. There hasn't been alot of art going on here at Oak Cottage lately. I've been really busy at work, but then . . . some weeks are just like that!
(Sorry for the poor quality of my scan, because of the ribbons on the card I could not get it to lay flat and so it's a bit dull!)