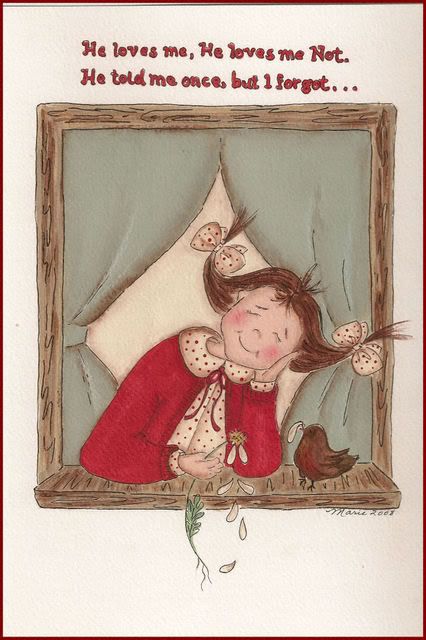 I remember those wonderful, heart wrenching days of young love. Secret crushes,tender and sweet, and sometimes painful . . . a testing ground for the glorious days of true love to come. as usual Emmeline has her little friendly Robin friend to keep her company and help her count the petals of her love . . .
Available as a card or a print. Cards are £2.50 and prints are £15. All cards and prints are printed out on Somerset Enhanced 100% cotton archival paper, and with beautiful pigment inks. The Prints are A4 size, suitable for framing in any way which you desire. They can also be printed smaller and hung in groups. (prices are adjusted accordingly) The cards are mounted on quality linen textured card and are 4 by 6 inches in size, left blank inside so that you can write your own personal message of greeting.
All my art is available as either a print or a card. Contact me on MarieAliceJoan at aol dot com to find out more details. Thanks so much!